The Aquatones
"2000 & now"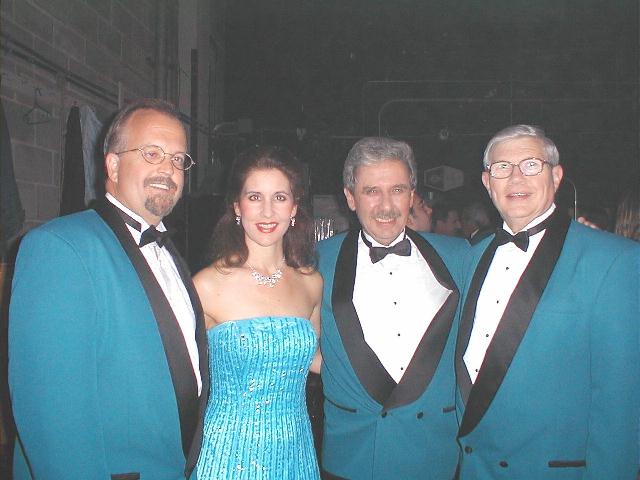 In 1998, Dave happened to hear a young lady sing who sounded amazingly similar to Lynne.
A year passed before Dave was introduced to the wonderful fans of doowop,
and realized there were lots of people who still loved this music.
He sought out this singer and approached her to see if she would consider singing with the Aquatones.
The young lady, Colette Delaney, had had a career in musical comedy, and to Dave's pleasant surprise,
expressed interest in singing with the group. Colette and Dave started making "demo" recordings
of some of the Aquatones' old music. They played the recordings for doowop fans,
and the reaction was unanimous - "Give us more!!"
So Dave and Colette selected some songs that the Aquatones had recorded in the 50s and 60s
- and selected other songs that other groups had recorded in the golden age of doowop
- and Dave, inspired by Colette's voice, started writing songs again. Those who have heard
Dave's new compositions pay him the ultimate compliment
- "Gee, your new songs sound like they were written in the 50s!"
That's good news for doowop fans!
So, thanks to Dick Plotkin and Debra Records, Dave and the rest of the Aquatones
went back into the recording studio to record their new CD.
The Aquatones are now polishing up their performing act,
and they hope to see many of you at concerts in the near future.

Finally the CD is out.....Buy it now !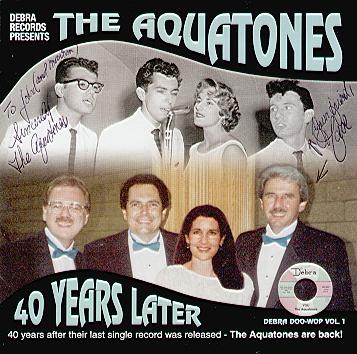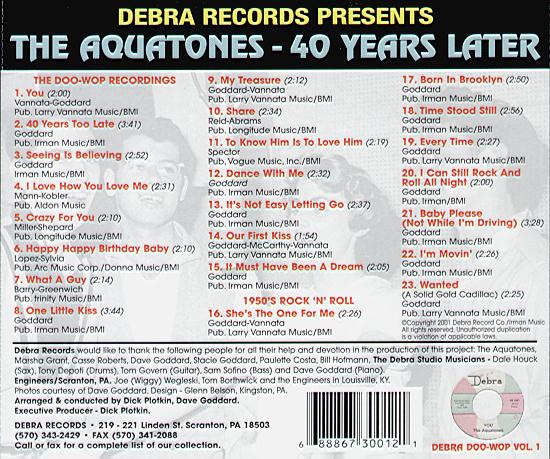 If you like to order your copy go to the brand new Aquatones site:
Visit: http://www.aquatones.freeservers.com/
There you find some songs in Real Audio from the CD
Reviews of this CD by:
&

To view
or
Go back toThe Big Beat ....... Index