" The Big Beat "
Presents: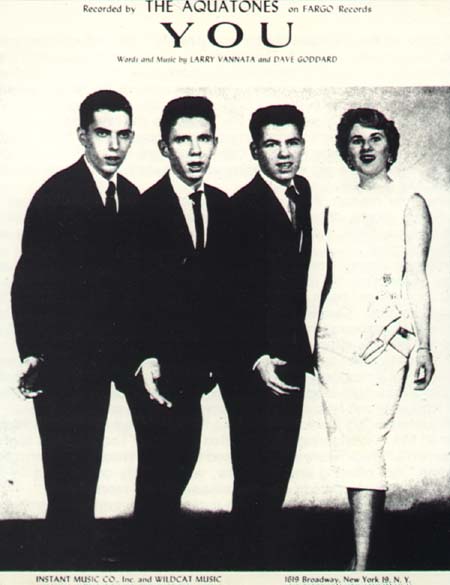 The Aquatones
1958 -1961
( Larry Vannata, Dave Goddard, Eugene McCarthy & Lynne Nixon )

One of my favourites vocal groups of the late 50's will always be the Aquatones. Why......because they recorded some of the greatest ballads . " You "....their biggest hit from the summer of 1958 , " Say You'll Be Mine ", " For You, For You ", and the song that will always be in my personal favourite top 10 of all time, their version of " Crazy For You " , but they also recorded some of the best Rock & Roll uptempo songs like " Every Time ", " Wanted ( A Solid Gold Cadillac ) " , and the one that is very popular here in Europe, the B-side of " You " their hit of 1958, " She's The One For Me ". While on my trip last June 2000 I met Dave Goddard , former member of the Aquatones. Dave, along with Larry Vannata, were the writers of almost every song the Aquatones recorded in those days. And I can assure you, after some emails received from him since then, Dave is still a " Writer ". Sorry Dave....I have to be honest ...... In one of those emails Dave told me he had reformed (because he found Colette Delaney) the Aquatones and that he is still busy writing some new songs for a new CD that he hopes to release by the end of this year( This was written in 2000 ).....but is now on the market in 2002.

The History:

The Aquatones were formed as "The Rhythm Kings" in September 1956. The original members were
Dave Goddard, Larry Vannata, and Gene McCarthy.
They got together to record a song written by Dave for their junior class play at Valley Stream
Central High School on Long Island. All of them played instruments as well as sang -
Gene on clarinet and tenor sax, Larry on alto and tenor sax, Dave on piano.
They added a drummer - their friend Bob Boden - to perform their music live. They were never a dance band.
All of their songs were original and they hoped to be "discovered" and become recording stars.
They played some of their home recordings for a classmate's father, a record distributor,
and he suggested that they needed a high voice in the group. Shortly thereafter,
Larry met Lynne Nixon at a dance, found out that she sang, and asked Gene and Dave to give her an audition.
They agreed and were happy to hear Lynne's beautiful voice. At first, she sang only backgrounds,
until Larry wrote the song "You" for her to sing.

After changing their name to the Aquatones
- so the guys could wear a "cool" shirt from the 1950s (aqua with a black velvet "V" down the front)
as a uniform - the group continued their efforts to land a recording contract.
In November 1957 they appeared in a talent show in the neighboring town of Malverne, NY.
At that show, they were heard by Lou Fargo, a local realtor who wanted to get into the music business
- and Fargo asked them the question they'd been waiting to hear:
"How'd you like to make a record?"
Fargo was interested in working with a vocal group, so Bob, the non-singing drummer, left.
The group's very first release, in January of 1958, was the ballad "You",
with the rocker "She's The One For Me" on the flip side. Helped by airplay on American Bandstand,
"You" soon hit the Top 40 charts all over the country.
It reached #7 in New York, #1 in Boston, and #21 on the Billboard national pop charts.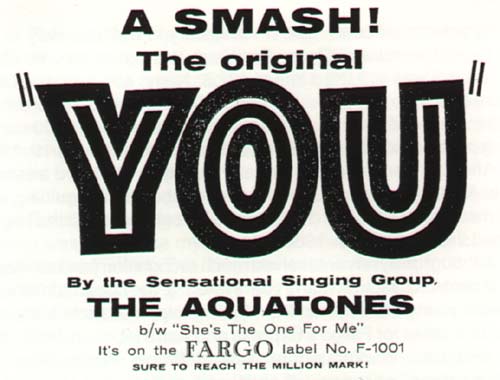 After "You", the Aquatones released 6 more singles, but none of them made the charts.
Their last single, "Crazy For You" b/w "Wanted (A Solid Gold Cadillac)" was released in July 1961.
After that, the Aquatones went their separate ways. Lynne stayed on Long Island,
Larry moved to New Hampshire, Gene moved to the midwest and then to Atlanta,
and Dave moved to California, Ohio, and finally Kentucky. Most important, Lynne stopped singing.
Though the group members remained friends and stayed in touch, it was difficult to get together to perform
- and without Lynne, they were missing the "sound" for which they were known.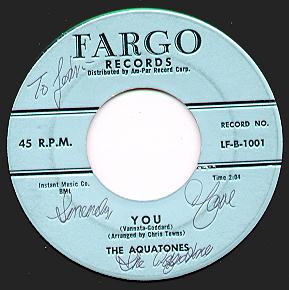 This page is dedicated to the memory of:
Lynne Nixon Denicker, the lead singer for the Aquatones on "You" , who passed away in Januari 2001.

You wanna read more: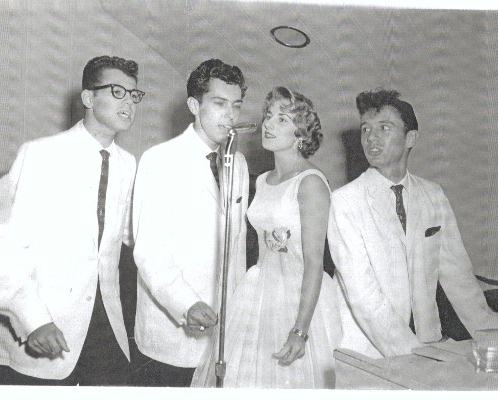 Click on the picture !
More items:
or
Back to the Big Beat ..... Index